How to configure your workstation for DaVinci Resolve 18
---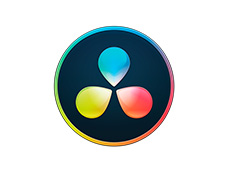 With the video editing program DaVinci Resolve you are able to edit online and offline, video and audio postproduction, as well as visual effects in the same application. DaVinci Resolve is free and a very good alternative to AVID, Final Cut or Premiere. Following you will find our workstation recommendation for DaVinci Resolve. At the bottom of this page, you'll find our video on color grading and rendering with Davinici. Smoothly edit 4K video Optimize color grading and color correction. For all your demanding tasks in Davinci Resolve, we configure the optimal workstation. Request a no-obligation quote for a basic, performance or high-end Davinci Resolve Business Workstation. And not only that. Test this workstation via remote access. Customized for you. Tried out by you free of charge. So much service must be!
Which is the right CPU for DaVinci Resolve 18?
The choice of CPU for DaVinci Resolve depends primarily on the balance of the other components (RAM, GPU and hard drives). A processor with 8 cores and 3.00 GHz provides better results than a CPU with 6 cores and up to 4.00 GHz in Turbo Boost. Professional video editing quickly leads to high multitasking demands. If your business workstation has enough cores, background processes can easily be outsourced to a free CPU core. If you mainly work with 2K footage, we recommend a high-frequency 6-core Xeon processor or alternatively an Intel i7 with up to 4.00 GHz in Turbo Boost. If you use 4K, 6K and 8K video material, we recommend a high-frequency Intel Xeon with 10 cores and up to 4.50 GHz in Turbo Boost, such as Intel Xeon W-2155. If you are using 8K video material, we recommend a powerful dual processor workstation with 2 x 10-, 14- or 18-Core Xeon processors from 3.5 GHz (Turbo-Boost). Intel Xeon processors are powerful, designed for continuous operation in server and workstation and impress with reliability and energy efficiency. The high number of cores and the large L3 cache as well as the scalability in multi-CPU systems with dual CPU sockets enable extraordinary multitasking. Ideal conditions for DaVinci Resolve. The higher the MHz frequency the better DaVincvi Resolve will work. As an alternative, an Intel i9 with 10 cores and 4.5 GHz in Turbo Boost is suitable. AMD processors have become a real alternative. Unfortunately, very few business workstations are equipped with AMD processors. Lenovo currently has a business workstation with the Thinkstation P620 with, for example, an AMD Ryzen Threadripper Pro 3955WX with 16 cores, 32 threads and up to 4.3 GHz available. We currently offer this model under the following link.
How much RAM does DaVinci Resolve 18 need?
The size of your memory depends primarily on the resolution of the video you're editing and the complexity of the editing sequence. Pay attention to the maximum clock rate (MHz) of your RAM modules. The higher the clock rate, the higher the data rate and the performance of your RAM We recommend 32GB RAM for 2K video, 64GB for 4K film, 128GB for 6K footage, and 256GB RAM for 8K video.
Which GPU is suitable for DaVinci Resolve 18?
DaVinci Resolve offloads intensive image processing to the GPU and uses YRGB 32-bit floating point processing for exceptional colour precision. Ideally, use one GPU for the user interface and a second graphics card for image processing. If you want to use a mobile workstation for DaVinci, we recommend you look for a Thunderbolt 3 port so you have the option to run an external GPU. As a base graphics card, we recommend an NVIDIA Quado P4000, an NVIDIA Geforce RTX4000, or a Geforce RTX3060. The NVIDIA Quadro P4000 with 8 GB and 1792 CudaCores is recommended by Blackmagic, among others, for more complex Resolve setups and the processing of 3D and 4K video material works optimally. As a high-end graphics card for 6k and 8k video material, you can use the NVIDIA Quadro RTX A4000 with 16 GB VRAM or an NVIDIA Quadro RTX A5000 with 24 GB VRAM without hesitation. DaVinci Resolve offers excellent GPU acceleration support and benefits from powerful graphics cards. Using DaVinci Resolve in Studio Edition, you can achieve a performance gain of about 50% by using two identical graphics cards. Since DaVinci Resolve has problems scaling multiple graphics cards, a single NVIDIA Geforce RTX 4080 or 4090 achieves better results than two high-performance Quadro RTX series graphics cards. Some features, such as the *Fusion* tab, can only effectively use one graphics card. As high-end graphics cards, we recommend the NVIDIA Geforce RTX3090Ti and RTX 4090 series if available at fair conditions (Status 01.06.2023), alternatively an Nvidia Quadro RTX A5000 with 24 GB VRAM. A good alternative is the AMD Radeon Pro W6800 with 32 GB VRAM and 3,840 streaming processors based on the state-of-the-art Vega GPU architecture. Optionally connect up to 6 displays via Mini Displayport @5120x2880px. Update the graphics card driver at regular intervals.

How important is the size of the graphics card memory?
When selecting the right graphics card for your projects, the VRAM (graphics card memory) plays a significant role. Depending on the length and complexity of your timeline or the resolution of your video footage, you may need a GPU with larger graphics card memory. We recommend to use 8GB VRAM for 4K video material and at least 12GB graphics card memory for 6K and 24GB DDR6 VRAM for 8K material.
Which graphics card architecture AMD or NVIDIA?
In the world of video editing, DaVinci Resolve is one of the few applications that will demand everything from its graphics card in terms of GPU acceleration.
If your budget allows for a higher-end GPU, you will get better results with high-end NVIDIA graphics cards. AMD offer a few low-cost alternatives in direct comparison, for example as an entry-level graphics card for 4K editing the Radeon Pro W6600 with 8GB VRAM. Some of our customers cut with 8K media or use DaVinci to remove image noise. For this workflow, a large VRAM is recommended. To use a Radeon Pro W6800 with 32 GB DDR6 VRAM and 3.840 streaming processors in their workstation, you will need 1x PCIe 6-pin and 1xPCIe 8-pin adapters for power. 
Which is the best Hard Disk configuration?
For optimal hard disk performance, we recommend the following configuration:
1. M.2 NVME SSD Samsung 980 Pro, from 512 GB for the operating system and software depending on the size of your programs.
2. NVMe Flash Storage Drive, HP Z Turbo Drive or a Samsung 980 Pro M.2 NVME SSD for your active project-related data. 
3. External hard disks with Thunderbolt connection are perfectly suited as fast data storage for your project data. Please note that the built-in hard disk supports the full data transfer rate.

Are there special keyboards for DaVinci Resolve 18?
The use of a Logic Keyboard with color-coded keys makes DaVinci Resolve easy to control. An optional DaVinci Resolve Editor keyboard with integrated search control is available. With this keyboard you are able to edit much faster than with a mouse.
Color correction and rendering with Davinci
Lenovo ThinkPad P70 ./. HP Zbook 15 G4 - Performance comparison for photo and video editing
Recommendations for DaVinci Resolve